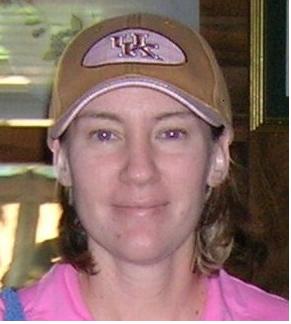 A Celebration of Life
To plant a seed in one's heart ...
To root it in love ...
To nourish it with time spent together ...
Yields a blossom that will flourish forever.
This page is a tribute to our wonderful and beautiful daughter Tonya "Punkin" in whom we love very much and truly give all the Glory to God for all the years that we had to spend with her here on earth. We want her legacy to continue and that her life and love to her family and God would be a powerful testimony to all that would read "A Celebration of Life." May it give you hope, help and encouragement as you take this journey with us of a loving, sweet, kind and gentle women of God that truly left us with a legacy to follow.
Wednesday Night Phone Call
We will never forget the phone call from Tonya on a Wednesday night in April after we arrived home from speaking engagement in Florida. Punkin was in severe pain and I said to her, call my cousin and see if they would come and get you at your house and take you to the emergency room. The next phone call to us was that Punkin was on her way to the emergency room. It was going to be a long night and we began packing our clothes to make the trip to be with our daughter which lived about five hours from us. We received two phone calls at 2 am and 4am. The news that we had received was that Punkin was being transferred to another hospital.
We received a report from a doctor that Tonya had a mass on her colon and that she would be having surgery the next day. The report that we had received was shocking to us but our faith in God was giving us strength through this very difficult time. Prayer and God was the key that we had to hold onto. We arrived at the hospital a few hours later and Punkin had gone through surgery well and we were able to see her shortly after we arrived.
We were giving a phone number from the doctor that had done the surgery and we were to call him. The call was made to the doctor and the report that we heard was devastating at first. We were told that Tonya had a big mass that was removed from her colon and another organ in her body. The report was that the mass was cancer and it was in stage four. Even thou it was devastating to us, we believed and stood on the word of God and that God would heal her and our trust, faith and prayer continued to work in Punkin's life and our lives as well.
Tonya was released a few days later from the hospital and we spent the next several months together as a family and holding onto the word of God and His promises. God is faithful if you believe and receive and put your total trust and faith in Him. No matter what report you may hear or receive or what circumstances you may be going through His Holy word is true and He will never leave you nor forsake you.
Life's Tests
Our precious and wonderful daughter Tonya went to be with the Lord after a very courageous battle with cancer. We want to give you the reader an insight of what I call "walking through life's difficulties" and going through the challenges of life. At times it seems all most impossible or never ending in the difficult times that we have endured through trauma or sickness or diseases that try to hinder us in our life's journey, but God is faithful.
It has been one of the most difficult times in our lives that we have ever walked through; it even surpasses the Vietnam War and my heart operation that we as a family went through. Our hearts and life's has a big void and it has left a big hole in our hearts that only God can heal in His time. One would never thank that you would out live your child, it has changed our whole life which will never be the same again.
Trust and Faith
It is our heart to share with you about Tonya's faith and trust in God. Tonya never wavered in her faith and trust in God from the first report of her physical condition to the last day of her life here on earth. Tonya believed and held onto the very word of God and His promises and the report of the Lord. "Who hath believed our report and to whom is the arm of the LORD revealed?" -Isaiah 53:1 (KJV)
We had the opportunity to not only witness her walk with the Lord but to see how much she loved God and the trust and faith that she had in Him, no matter what the circumstances were like, no matter what her physical body may have been like, no matter the reports from the medical doctors, she held on to her faith through it all. Tonya trusted and loved God with all of her heart, soul, mind and strength. "And thou shalt love the Lord thy God with all thy heart, and with all thy soul, and with all thy mind, and with all thy strength: this is the first commandment." - Mark 20:30 (KJV).
Tonya made a choice and decision over 18 years ago to receive Jesus as her personal Lord and savior and to serve Him. Tonya had a personal relationship with God; a relationship that meant that she would not only be faithful and obedient but put her trust and faith in a loving and caring God, one who would see her through the difficulties in her life journeys, a journey that would take her to the place of giving her all to Him and willing to give her life to God.
All the Glory to God
In her test, trials and difficulties in her life, she only wanted to serve God and be a help to her family and friends, to continue to give and ask nothing in return. Tonya was a very giving person a little shy but she had a look that was different, a look of peace, a look of hope and determination, a smile of the love of God, this was our Tonya that I got to know, one of quietness, gentleness, love, faith and hope. Something that she wanted known was to give "ALL THE GLORY TO GOD" nothing about herself.
Fullness of Life
We as her mom and dad had the opportunity to see Tonya accomplish many goals in life; she loved God and her family. Tonya loved the holidays and the getting together with family. One of her heart's desires was to travel in which her and her brother had the opportunity to see many different places and states and even overseas.
Tonya had a full life and one of adventure; she loved life to its fullness. We were very proud of all her accomplishments in her life. She was very precious to us and will always be our baby girl.
Never Leave not Forsake You
God's love, His peace, His strength, His grace and His Holy Word the Bible has been our hope and help for my wife and family to get through life one day at a time. "Be strong and of a good courage, fear not, nor be afraid of them: for the LORD thy God, he it is that doth go with thee; he will not fail thee, nor forsake thee. (8)And the LORD, he it is that doth go before thee; he will be withthee, he will not fail thee, neither forsake thee: fear not, neither bedismayed." - Deuteronomy 32:6, 8 (KJV).
God's word is true, His promises will get you through, and all you have to do is believe His Holy Word, trust and put your faith in Him. I am a living testimony of God's faithfulness and His mercy and grace. God will never leave you nor forsake you in any circumstance or difficulties in life; all you have to do is hold on to God and His word. We have a choice or decision in every situation in life if only we will call upon Him and ask for God's help. I am finding out in my own life that I must put all my trust and faith in God and not lean on my own understanding.
As my wife and I walked through the months with Tonya we told her that we would be with her and stand with her in her decisions and that she would not have to walk through her sickness and disease alone, not only were we with her but that God was with her and that He loved her and cared for her and that He would never leave her nor forsake her.
Holding on to God's Promises
Sometimes things happen that we may not fully understand and we may have questions to ask or wonder way things happen, but I have found in my own journeys and difficulties that God is the creator of heaven and earth and is in control as long as I will allow Him to be and that His promises are true. Someday I will be able to ask those questions to Him and get the answers, but as of now I only stand on His promises and His Holy Word and believe and trust and put my faith in Him.
You may ask yourself, can I have that much trust and faith in God. When you are in the midnight hour and there is no one that can help you our do anything for you, who are you going to turn to? When the medical people say that there is nothing else they can do for you; who is going to be there to help you and who are you going to call. There is an answer and it is called prayer. If you believe, trust and have faith in God He will be your help in time of need. I have walked in this place more than one time in my life journeys, He is faithful if only you will believe and call upon Him.
Tonya came to a place in her life that she had told us that God said to her that she had to put all of her trust in Him. This was before she found out about her sickness and disease. From that point forward she totally put her trust and faith in God.
The last months of her life were to tell people about her faith and trust in God and that He had healed her. Tonya's faith and trust in God strengthen our trust and faith in God. Tonya ministered to my wife and me so many times during those difficult months, she showed us that she not only believed but was able to walk what she talked in her trust and faith in God Almighty. "Let us hold fast the profession of our faith without wavering; (for he is faithful that promised;)" - Hebrews 10:23 (KJV).
Prayer of Others
Prayer is the key I believe that UN locks the door in heaven, we are so grateful for all of those that were praying for Tonya and our family. It is good to know that so many people care and continue to pray for us each day. My wife and I know that God does answer prayer and that God's word is true. You may be thinking that if God answers prayers why then are we going through what we are going through. I don't have all the answers for such a question but I do know who does and it is God and the answers can be found in His Holy Word.
He is God
I never ask God why; when our daughter passed away, I only trusted and put my faith in Him and I know that He is in control and at this point of my life that is all I need to know. I have witnessed many times and seen with my own two eyes of healing and miracles that God has done in our journeys as Evangelist. We prayed and believed to the very end that God had healed our Tonya. You may ask do I still believe God heals, yes I do, does God still do miracles, yes He does, for His word is true and HE IS GOD!
This may be hard for some to understand but that is where my wife and I are at, we put our trust and faith in God Almighty and we believe His Holy Word and that He is God and He is the one who is in control and not us.
The Peace that Passes All Understanding
God has given us peace from the very first day that we got the report about Tonya and even though we miss her very much and love her very much, through it all we still have the peace that God has given us. "Peace I leave with you, my peace I give unto you: not as the world giveth, give I unto you. Let not your heart be troubled, neither let it be afraid". - John 14:27 (KJV).
Ministry of Tonya
Tonya was in two separate ministries in the church she attended. A ministry of clothing called Helping through Him and Circles of Influence in the Backpack Ministry. The backpack ministry was involved in reaching out to the elementary school children with food for the weekend. The ministry has grown from a few children a week to 270 a week. Tonya really enjoyed serving as a team leader in the backpack ministry but most of all her heart to help those little children to know that they would have food each weekend. We have had the opportunity to help pack the food in the backpacks and it just blesses your heart in each one that is filled with food. It is a worthwhile ministry to be a part of and if you would like to be a part of this ministry please send your gift or memorial of any amount to the following address.
Southland Christian Church
P.O. Box 23338
Lexington, KY 40523-3338
Memo: Backpack Ministry/Memorial for Tonya
Tonya planted many seeds in people's lives just by her quite testimony, her compassionate heart, kindness, gentleness and her love for family and friends. She truly loved God and served as a servant of His. Her memories and love will forever be with us. We will miss her dearly and our love will continue to grow in God's love together.
These were the words that Punkin said to us and left with us to share with everyone that we meet in life as we give testimony of Punkin's trust and faith in God: "TIME IS PRECIOUS" and "ALL THE GLORY TO GOD". So we do give ALL THE GLORY TO GOD.
Note to Punkin
Dear Punkin, I love you so very much and your daddy misses you so very much. I will see you again and we will spend eternity together forever. God's word promises me that because of my faith and my confession as receiving Him as my personnel Lord and Savior. I will spend eternity with you and Him. So I look forward to the day that we meet again and I will be able to hold you in my arms and tell you that I love you and talk to you. You were such a blessing in my life and a big part of my life and that God allowed you to be my daughter. I am so thankful and grateful to God. Thank you for being my precious daughter and my friend, you will always be in my heart and I will always be in your heart.
Love Dad
Letter from a Friend
The following is from Tonya's friend Stacye and was read at Tonya's Memorial Service.
I've had a many a friend in life, some of which I've admired more than most like Tonya. It hurts to have a friendship end before it actually began but I believe friends can be God's way of taking care of us, as He sends them when we need them most of all.
Sometimes angels fly close enough to you that you can hear the flutter of their wings. My friend Tonya's courage, strength, hope and her faith and her intent to live upon God's determination amazed me. She knew God had a purpose to call her home. "Cast thy burdens upon the Lord, and he shall sustain thee; he shall never suffer the righteous to be moved". - Psalm 55:22 (KJV).
Tonya's days started out with an attitude of gratitude. She made the best of each and every day. Her mind was broadened to accept all things that she had no control over. I believed Tonya was used to do God's will and I thank her for uplifting me to see what I've misunderstood and misjudged by others and in life itself. Her faith was an encouragement for me to pray for those who didn't believe or was lost and still trying to find their way and purpose.
God had listened to Tonya's heart and knew she had no problem, circumstance, nor situation that was greater than He to fight a battle that was not hers. She found safety in His arms.
Farewell my friend…I will always cherish the beautiful moments of our conversations about God and life, our walks during lunch and especially your knowledge on "cheese"!!
To the Haney Family and closet of friends, I pray for peace, love and joy in your homes of Tonya's home going. I pray that the word be received in the heart of every ear that hears it…in Jesus Name…Amen.
A Service of Remembrance
The following words were shown at the end of Tonya's service "A Service of Remembrance" and I wanted to share this with each one of you;
"Time Is Precious"
"Do You Want To Know My Jesus"
If you would like to receive Jesus Christ into your heart and life today please Click Here
May God richly bless you and continue to give you his Love, Joy, Peace and Happiness. May you be a mighty witness for God's Kingdom?
Our Prayer for You
"The LORD bless you and watch, guard, and keep you:" - Numbers 6:24 (AMP)
"The LORD make His face to shine upon and enlighten you and be gracious (kind,
merciful, and giving favor) to you:" - Numbers 6:25 (AMP)
"The LORD lift up His (approving) countenance upon you and give you peace
(tranquility of heart and life continually)." - Numbers 6:26 (AMP).
Moments with God
I came across the following words after our daughter went home to be with the Lord:
Happy Moments, Praise God
Difficult Moments, Seek God
Quiet Moments, Worship God
Painful Moments, Trust God
Every Moment, Thank God
I pray that these sayings will give you hope and be of help and comfort to you. No matter what life may be like hold onto God for He will get you through the difficult times, the painful times, the sorrowful times. He is faithful in all that we go through in life, for this is a testimony of His faithfulness and loving-kindness. He loves us and cares for us.
Thank you for taking the time to read this testimony in dedication to our daughter Tonya. If you have had a child that has passed away may, It is our hearts desire that God would give you hope, comfort and peace, His love and rest.
God Riches Blessings to You,
William
Note: Unless otherwise noted, all Scripture quotations marked (KJV) are from the King James Version of the Bible.
Scripture quotations marked (Amp) are from The Amplified New Testament Version of the Bible.